House Clearance in Crawley Reveals Scottish Pistol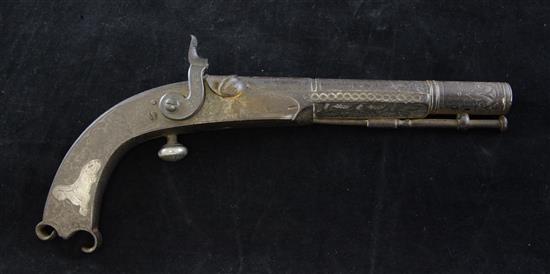 House clearance in Crawley reveals a 19th century Scottish steel percussion pistol.
This Pistol is engraved with thistles, leaves and arabesque scrolls.
the barrel inlaid with a band of silver thistles, the ram's horn butt and stock inlaid with silver sphinx, with silver trigger button and side clip.
After speaking to the owner of the property he informed me that his Great Grandfather was an officer in the scots guard and he kept this when he left, along with a dirk.
Scots guards during the 19th century:
in June 1815 the Scots Guards were positioned on the ridge just behind Hougoumont Farm, while the light companies of the two battalions, under the command of Lieutenant-Colonel James Mcdonnell garrisoned the Farm, a place, on the right flank of the British and Allied army, that would be a key position during the battle
We regularly carry out house clearance in Crawley, East Grinstead and surrounding areas. We have found many interesting items but as we were carrying out this house clearance in we found this interesting Pistol.
If you have any house clearance requirements in Crawley or any of the surrounding areas please call Lee for free advice on 01444 241853