House Clearance Worthing Finds Rare Oil Painting.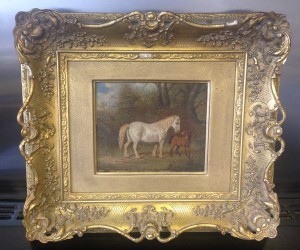 House clearance in Worthing reveals an original Martin Theodore Ward Oil painting whilst carrying out a clearance service in a home.
In a grand frame 'A Mare & Foal in a Landscape' was found in all it's beauty. It instantly interested me and I wanted to do some more research on the lovely piece.
I found out that it was a  genuine oil painting by the artist c. 1799 – 1874, signed, bottom right corner.
Martin Theodore Ward was a British artist who is renowned for his scenic realist paintings of animals in the landscape. Ward lived from 1799 – 1874 and painted a fair few paintings in his time.
The panel itself depicts two horses – a small brown foal and a large white mare interacting in a charming british forest landscape of trees, grass & dirt and blue clouded skies. All in lovely detail. The Frame is golden and grand, serving the painting well. Take a look at the detailed images provided.
The painting panel is in good condition, the oil paint has that old crack and lovely aged tint to it, but this makes it all the more charming to me.
Interestingly, the painting was previously viewed by an expert and confirmed to be an original Martin Theodore Ward (sticker on back of painting).
Paintings like this sell for £1,400 – £3000 at auction; a great find on a quick house clearance, in fact we have regularly carried out house clearance Worthing, Littlehapmton, Shoreham and surrounding areas. We have found many interesting items but as we were carrying out this particular house clearance Worthing we found this unique painting with a great history.
If you have any house clearance Worthing requirements or any of the surrounding areas please call Lee for free advice on 07765364740 or 01444 241853