Hove House Clearance Service Reveals Antique Chinese Cloisonne.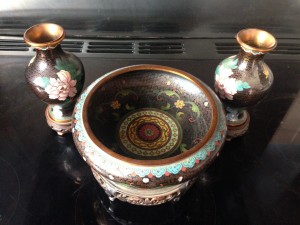 A House clearance in Brighton & Hove reveals an unique set of Chinese cloisonne pieces on wooden stands whilst carrying out a clearance service in a home there.
This is set of gorgeous and highly collectable antique chinese cloisonne features a large bowl and two vases in black, turquoise, brass and red in floral/nature Design.
The little set found in the Hove house clearance, in detail, is made up of two matching vases and similar bowl, definitely the same makers, Bowl is signed clearly underneath in Chinese characters. All Pieces are on matching hand carved wooden stands; a light-medium wood with a dark stain.
The large bowl is of a black design with brass swirled detailed covering the piece. It features a turquoise and terracotta symbolic Chinese band in enamel round the neck and green and white flowers around the body. The inside of the bowl shows a stunning enamel circular center of turquoise, yellow and terracotta red. The underside features a signed mark in Chinese characters in green enamel. Around it a cloud design in brass set in bright turquoise enamel. The piece is finished off with a polished brass rim and bass.
Dimensions: 21cm in Diameter and 64cm circumference. Height is 13cm with the wooden stand, Approx 7cm alone.
The pair of vases (very similar to bowl) are primarily of a black enamel design set onto brass cloud like detail over the face (like that of the base on the bowl). The design features the same Chinese symbolic band around the neck as the bowl, just in slightly varied colour combinations. The sides show a scene of a small yellow bird among traditional Chinese flowers in pink, green and white. These vases are finished with the same brass rims around the top and base.
Dimensions: 27cm Circumference at the widest point, Height approx 16cm, approx 18cm with stand.
Straight away I knew these pieces are fairly old and extremely high quality. I wasn't exactly sure of its exact age though. A funny story; after the hove house clearance I took the bowl with the signature to a friend down at the local Chinese restaurant to see if he could read the mark on the bas for me! The good news was this; he told me that the markings date it back to the Ming Dynasty (1368 – 1644) Which means the piece is extremely old. I knew then that this was a fantastic clearance find in Brighton & Hove.
For those who didn't know; 'cloisonne' is technique of finishing and decorating brass with enamel for a strong and beautiful alternative ceramic.
As well as being rare, beautiful and very old; the pieces are also in great condition! After this I will definitely be on the look out for some amazing finds on my next Hove house clearance.
If you need us to make a clearance for you it's good to know that we have regularly carried out house clearance Hove, Brighton & Hove, Burgess Hill and all over West Sussex and its surrounding areas. We have found many interesting items but as we were carrying out this particular Hove house clearance we found this unique set with a great history and value.
If you have any Hove house clearance requirements or any of the surrounding areas please call Lee for free advice on 07765364740 or 01444 241853.