House Clearance Crawley Reveals 20 full Sovereigns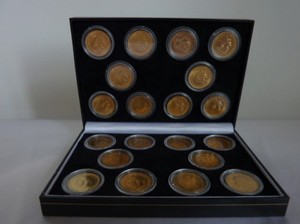 20 Full sovereigns found on House Clearance Crawley
Whilst offering a quote to a customer for a house clearance Crawley we revealed this box of 20 full sovereigns that weighed a total of 156 grams. We arrived at the house early on Sunday morning as the customer had work commitments during the week and needed to travel from Rochdale. The house was a standard 3 bedroom and had no real items of value until we found this box of sovereigns. I made an allowance for this and paid the customer £4000 for them. They all dated from 1911 – 1919.
About sovereigns:
Sovereigns were minted in the United Kingdom from 1817 to 1917, in 1925, and from 1957. Australia, India, Canada, and South Africa all occasionally minted the coins.
In 1908 a Canadian branch of the British Royal Mint was opened in Ottawa. As well as producing silver and base metal coins for everyday use, the new Canadian mint also turned the recently discovered gold into sovereigns striking intermittently between 1908 and 1919.In Victorian times it was the practice of the Bank of England to remove worn sovereigns and half sovereigns from circulation and to have them recoined. Consequently, although a billion sovereigns have been minted in total, that figure includes gold that has been coined and recoined a number of times. In addition, when coins were sent to places such as the United States for international payments between governments, they were frequently melted down into gold bars because of the Federal regulations then in force. When gold coins were finally withdrawn from circulation in 1933 in the US, many thousands of British gold sovereigns were consigned to the melting pot in this way.
We have regularly carry out house clearance in Crawley, East Grinstead and surrounding areas. We have found many interesting items but as we were carrying out this house clearance Crawley we found this box of sovereigns
If you have any house clearance requirements Crawley or any of the surrounding areas please call Lee for free advice on 07765364740 or 01444 241853