House Clearance Worthing Reunites War Hero With CBE Medal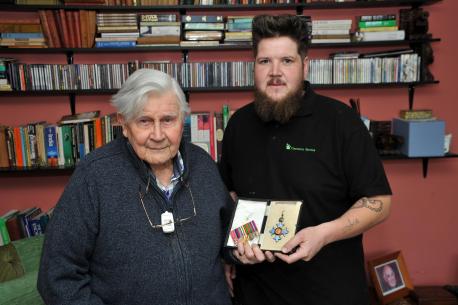 A 90-year-old war hero has been reunited with his CBE thanks to the determination of a house clearer after finding the medals in house clearance worthing.
Colonel Terry Cave, from Worthing, was thrilled when Lee Barnett of Clearance Service tracked him down after a CBE and four medals were found in a bag of old clothes following a House Clearance Worthing.
After sifting through his records Mr Barnett pinpointed Col Cave as the owner and yesterday returned the lost medals.
Col Cave said: "I'm absolutely delighted that it's been found. "It was given to me by the Queen in 1974 and I'm most appreciative to The Argus and to Lee for what they have done to bring it back to me.
"I had stopped thinking about it really, I thought it had disappeared forever and then I learned it had been found.
"It was a remarkable piece of detective work by Lee Barnett with the paper's help and I'm just so grateful to have it back.
"Many would have been unscrupulous and sold it on – medal collectors pay between £500 and £600 for them, so I'm really pleased it fell into Lee's hands."
Col Cave received the CBE for intelligence he passed on to the Ministry of Defence whilst working for the Army's Intelligence Corps.
He is now a patron of the Western Front Association and has just donated the biggest First World War library in the country to Birmingham University.
Mr Barnett was clearing Col Cave's House Clearance Worthing, in the summer when he found the CBE and medals, he made it his mission to find the rightful owner.

Mr Barnett said: "He was just so happy to get it back. He was over the moon, and it made all the chasing around 100% worth it.

"He said 'I must offer you something in return' but I couldn't accept anything just to see how happy he is was enough for me.

"He's a very intelligent person to have done what he's done – it was just great to meet him."

Col Cave's daughter Jacky Davis, 65, said: "It's absolutely fantastic – we're extremely grateful.

"Dad and I both thought the medals were in his desk, but he must've left them in one of his suits and all his clothes were on the way to charity after the house clearance."

Col Cave said: "I shall be celebrating tonight, don't you worry, with a large glass of whisky."
We have regularly carried out house clearance Worthing, Littlehapmton, Shoreham and surrounding areas. We have found many interesting items but as we were carrying out this house clearance Worthing  we found this box with a CBE and other Medals.
If you have any house clearance Worthing requirements or any of the surrounding areas please call Lee for free advice on 07765364740 or 01444 241853