House Clearance Crawley Reveals a handwritten testimonial.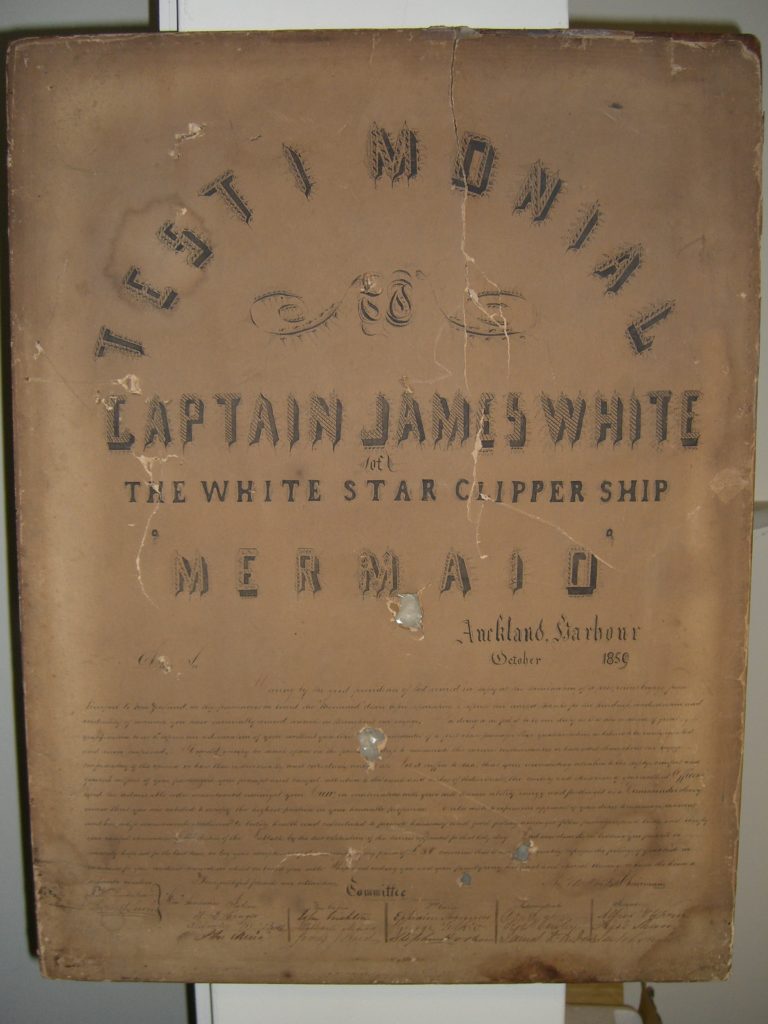 Found on house clearance Crawley
This is a unique hand written testimonial and signed by 18 of the passengers from different classes.Thanking the captain for the safe voyage to Auckland. Although this is in a damaged condition, all of the handwritten text is visible.
About the Mermaid:
One of the first White Star Line vessels purchased and owned (not leased as several websites claim) by original White Star Line owners John Pilkington and Henry Wilson. She was built in 1853 and purchased by White Star Line in 1854 at a considerable high price for the time.She was one of White Star Line first vessels "cleared" for immigrant passage. Mermaid carried 400 passengers and offered impressive first class accommodations in an attempt to attract "prominent " passengers (with money of course).
The Mermaid came to anchor in our harbour on Monday morning, having visited Auckland and Wellington en route from Liverpool, whence she carried 370 emigrants to the first-named port.
The Mermaid is a pretty American-built ship and commanded by Captain James White, to whom a most flattening testimonial was addressed by his passengers on their arrival at Auckland.  The Mermaid is eminently adapted for a passenger ship.
Mermaid successfully served the White Star Line for 13 years and was then sold to the Shaw Savill Line in 1867. In 1883 she ran aground and was abandoned.
Mermaid Early life:  She hailed Nova Scotia as her birth-place, and early in the fifties was chartered by the White Star Line to run to Australian ports. It was while in this trade that she had a great race with the famous Red Jacket, in 1854. She sailed from London 24 hours before the Red Jacket, but on May 10 the two ships were in company off Oporto, and kept close together as far as Teneriffe.
We have regularly carry out house clearance in Crawley, East Grinstead and surrounding areas. We have found many interesting items but as we were carrying out this house clearance in we found this interesting testimonial.
If you have any house clearance requirements in Crawley or any of the surrounding areas please call Lee for free advice on 01444 241853