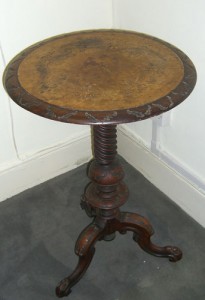 House Clearance Burgess Hill reveals an extremely rare and early Tea Table
Last week we were contacted and asked to undertake a small house clearance in Burgess Hill. After clearing the whole house we check the loft and this was the only item up there.
About Chippendale Furniture:
Thomas Chippendale was a London cabinet-maker also a furniture designer in the 1750's, English Rococo, and Neoclassical styles.
In 1754 he wrote a book of his designs, "The Gentleman and Cabinet Maker's Director"
The designs are regarded as setting the fashion for furniture of that period and were used by many other cabinet makers.
Chippendale collaborated in furnishing interiors designed by Robert Adam and at Brocket Hall, Hertfordshire, and Melbourne House, London, for Lord Melbourne, with Sir William Chambers (c. 1772-75).
Chippendale's book was used by many other cabinet makers.
Consequently recognizably "Chippendale" furniture was produced in Philadelphia, Dublin, Lisbon, Copenhagen and Hamburg.
The Director shows four main styles: English with deep carving , elaborate French rococo in the style of Louis XV furniture, Chinese style with latticework and lacquer, and Gothic with pointed arches, qua-trefoils and fret-worked legs.
His favorite wood was mahogany; in seat furniture he always used solid wood rather than veneers. His workshop was continued by his son, Thomas Chippendale, the younger (1749–1822), who worked in the later Neoclassical and Regency styles.
A bankruptcy and sale of remaining stock in the St. Martin's Lane premises in 1804 did not conclude the firm's latest phase, as the younger Chippendale supplied furniture to Sir Richard Colt Hoare at Stourhead until 1820 (Edwards and Jourdain 1955: 88).
Chippendale's designs became very popular again during the middle to late 19th century, leading to widespread adoption of his name in revivals of his style. Many of these later designs that attach his name bear little relationship to his original concepts.
Just how did this table find it's way to a house clearance Burgess Hill ?
We have carried out house clearance in Brighton, Preston Park, Burgess Hill, Plumpton Green, East Grinstead, Haywards Heath, Hove and found many interesting items but as we were carrying out this house clearance in Burgess Hill we found this superb example of a Chippendale Table.
If you have any house clearance requirements in Burgess Hill or any of the surrounding areas please call Lee for free advice on 01444 241853