African Ivory Carvings found on a House Clearance Brighton.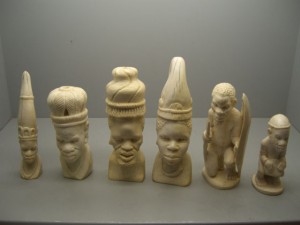 Over the Christmas period we were contacted and asked to undertake an emergency house clearance Brighton. We were contacted on the morning of the 26th of December and asked if we could undertake a house clearance & a deep clean. We were warned this was a very big task. We arrived 2 hours after the phone call.
Very carefully wrapped in old rags in the bottom of an airing cupboard a member of the team discovered these delightful carvings.These carvings are extremely well detailed and hand carved. They date over 80 years old by a small African tribe, some of them have been signed and engraved on the underside.
About Ivory carving: Art of carving ivory for ornamental or useful purposes, practiced from prehistoric to modern times. The ivory most frequently used is obtained from elephant tusks, but other types of ivory or substitute materials include the tusks, teeth, horns, and bones of the narwhal, walrus, and other animals, as well as vegetable ivory and synthetic ivories.
The origins of African art lie long before recorded history. African rock art in the Sahara in Niger preserves 6000-year-old carvings.[14] Along with sub-Saharan Africa, the cultural arts of the western tribes, ancient Egyptian paintings and artifacts, and indigenous southern crafts also contributed greatly to African art. Often depicting the abundance of surrounding nature, the art was often abstract interpretations of animals, plant life, or natural designs and shapes. The Nubian Kingdom of Kush in modern Sudan was in close and often hostile contact with Egypt, and produced monumental sculpture mostly derivative of styles to the north. In West Africa, the earliest known sculptures are from the Nok culture which thrived between 500 BC and 500 AD in modern Nigeria, with clay figures typically with elongated bodies and angular shapes.
We have carried out house clearance in Hassocks, Preston Park, Burgess Hill, Plumpton Green, East Grinstead, Haywards Heath, Hove and found many interesting items but as we were carrying out this house clearance in Brighton we found these really interesting Antique African Ivory carvings.
If you have any house clearance requirements in Brighton or any of the surrounding areas please call Lee for free advice on 01444 241853